I had built such a great relationship with this couple over the course of their pregnancy. I first met Allison around 26 weeks when we took a few pictures as an anniversary gift to her husband, to see these photos click here. I got to meet her Husband when we all made a trip out to Hunting Island for a full session Maternity Shoot, to see those photos click here. It was so fun to watch her grow and talk with her about her experience being pregnant and all she is doing to prepare for her natural birth.
Mama and I had been in close contact since she first felt labor was upon her. They decided to head to the Birth Center and would give me a call with an update. Once they arrived she had contracted to a 4. They were told to head on over to the 24-hour walmart and walk around for 2 hours. We decided I would meet them at the Birth Center after their walk. I was confident that it wouldn't be long, and with an hour drive I did not want to cut it too close.
I arrived at the Birth Center at 12:35am. Mama was just check and had progress to 6 cm. The midwife had the room all ready for her. After a few contractions mama was ready to move to a more comfortable setting. First on her list was the shower. She tried to ease some of the back pain with warm water down her back. Contractions were coming about every 3-5 min and when she felt one come on she would politely raise her finger as to say 'hold on just one sec', close her eyes and tilt her head down. She was practicing a technique called hypnobirthing. It is where the mother tries to calm herself from within by imagining herself somewhere else; a type of self-hypnosis. As an outsider looking it; it seems to be working. The contractions didn't look painful, but rather a brief moment of discomfort.
After a few position changes and a back rub from her husband, she wound up sitting on the bed. She found this to be the most comfortable spot so she stayed there and worked through her contractions as they came. She had her music on in the background to help with the relaxation. In between contractions we were talking and laughing and then the room became silent with the onset of a contraction as we allowed her to concentrate on her baby coming down. He husband was by her side the whole time. In her ear he would whisper words of affirmation and visualizations to help her in this relaxed state. they had been practicing for weeks and it was finally game time. They were a well oiled machine as they worked in tandem to bring their daughter into this world.
I left the room to give them some time alone. After a short while the midwife went in to check on her and break her water. Once she was done Mama was allowed to sit in the tub. She was only in the tub for an hour before she felt the urge to push. Keeping with her calm demeanor, mama got out of the tub and made her way back over to the bed. The contractions were coming every 2 min and within 30 min she pushed her baby out in this world. The joy and excitement were written all over their faces, it was a special moment to share and take part in. 'I did it!' she yelled. 'I love you, you are my hero' he replied.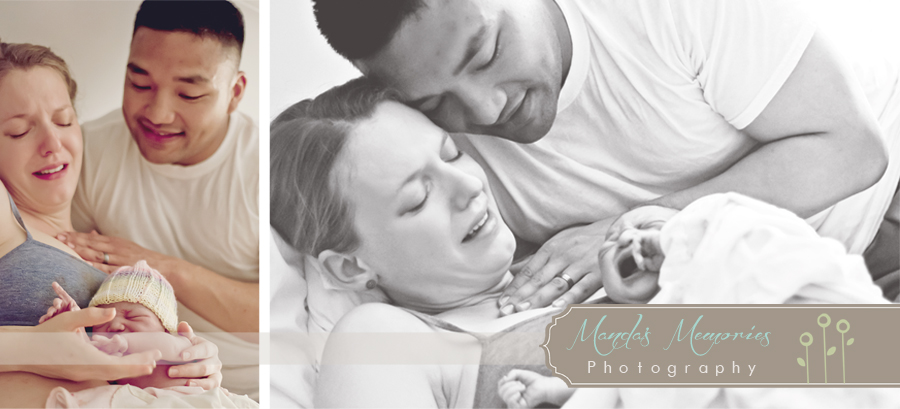 The moment was sweet and unforgettable and with the help of photos… the memories will be fresh in their mind.
I cannot express enough my extreme gratitude to Amanda for attending the birth of our little girl. Like most expectant mothers, I was unsure about having a photographer present during labor and delivery but Amanda was a chameleon; appearing and blending at all the right moments. She seemed to know precisely when I needed support and and when we needed quiet family time.

Her photography so perfectly captured the energy, emotion, and love of every moment. I am touched and transported to that wonderful day every time I review her photographs and have received endless praise from family and friends.

My husband and I could not be happier or more grateful for Amanda's perfect balance, charisma, professionalism, and incredible eye. With her help, we will cherish these memories for years and years to come!

~Allison
*Little Miss Adelle's Newborn Photos – Click Here!